Jankovic demands fighting spirit from experimental squad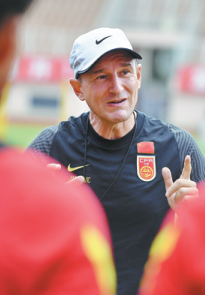 Aleksandar Jankovic
The Chinese men's team heads to the EAFF E-1 Football Championship with head coach Aleksandar Jankovic demanding to see hard work and fighting spirit from his young charges.
Team China has won the championship twice, in 2005 and 2010.However, after a poor World Cup qualifying campaign, expectations are low on an experimental Chinese roster mainly composed of under-23 players, who will take on South Korea, Japan and Hong Kong, China.
March's Dubai Cup was the first international competition in three years for many players due to the COVID-19 pandemic, which Jankovic admitted was a "difficult period" in an exclusive interview with Xinhua.
"We got some very interesting feedback and we tried to correct this after the Dubai tournament during our camp in Haikou. We didn't have much time because the Chinese Super League had started," said Jankovic.
"I'm happy that most of our players have had a lot of minutes in the CSL this year, so we are growing up. These players individually grow up, and so we grow up as a team. Now we have some experienced players on the team. All these things are very positive."
As a coach renowned for shaping teams with a physical edge to their game, Jankovic is pleased to report improved fitness levels in the squad.
"On the last day of the Haikou camp in April, the team average was 8.9 body-fat percentage, so we had already reached our targets," Jankovic said. "So the first day of this camp, the team average is already at the top level."
Jankovic revealed that 21-year-old Zhu Chenjie will serve as team captain. "It's a privilege to have a lot of guys with a strong mentality and character that we need," the coach said of the Shanghai Shenhua defender.
Injury setbacks
Chinese Football Association sources told Xinhua that Jankovic had planned to bring experienced trio Wu Xi, Zhang Yuning and Zhang Linpeng to Japan, but they have all withdrawn after sustaining injuries in recent CSL games.
Jiang Guangtai and Tan Long are the only squad members aged over 23. Jankovic hopes they will "transfer good values to the young players and be role models".
Team China is braced for tough tests against Japan and South Korea, two teams that will play in this year's FIFA World Cup in Qatar.
Jankovic, though, had little to say about China's highly rated rivals, and instead was keen to focus on his own players.
"Honestly, I don't care about the motivation of our opponents. I always care about what we are defending," Jankovic said. "If we defend the colors of China on Japanese soil, there is no bigger honor for our players.
"We are building a team around young people who are very hungry, motivated, unselfish and hardworking. In that case, I don't think any team is more motivated than us.
"Mentality and attitude have to be at the maximum of the maximum. This is something I want to see and has nothing to do with the opponent, whether we play against Japan, South Korea or other teams. The goal is always to have no regrets after the game. Hardworking, strong mentality with a top attitude, fighting spirit, and always play to win."
The Serbian is confident his players will back up his words with their performances on the pitch.
"The players are focused on what they have to do and everything they do, they must do with full intensity, full aggressiveness and commitment until the moment they fall down without energy," said Jankovic. "Then they ask for a sub and another one comes in. That's the philosophy."
With Team China keen to earn the trust of fans again following the disappointing World Cup qualifying campaign, Jankovic noted that the squad will upload locker-room videos to social media-as happened during the Dubai Cupas they "have nothing to hide".
"We just open our doors to let people see the way we live every day, how we prepare for games, how we celebrate victories and how we face losses together," he said. "I think these videos can show the nature of this team and the special honor we have-representing China."