Green guideline to be boon for Bijie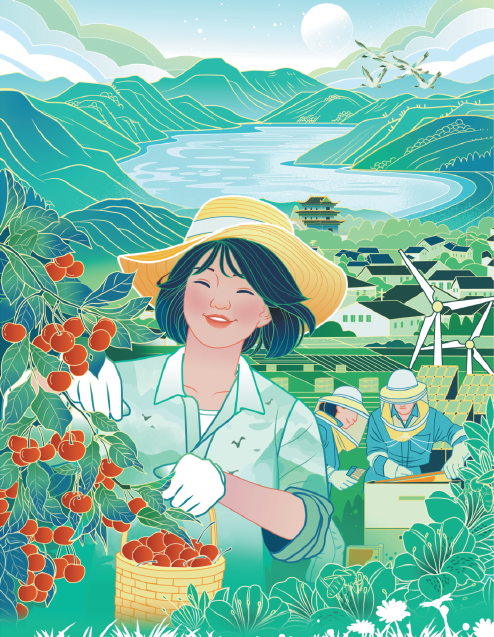 SHI YU/CHINA DAILY
Plan promotes the high-quality development of a 'model of China's poverty alleviation'
The National Development and Reform Commission on Friday announced a plan promoting growth in Bijie, Guizhou province, following approval from the State Council late last month.
Under the plan, the city will develop into a demonstration area where residents can enjoy prosperity, beautiful scenery and a vibrant atmosphere, according to the official reply from the State Council, China's Cabinet.
The plan has set goals for boosting green development, tapping local talent and promoting new types of industrialization, urbanization, agricultural modernization and tourism in the city of 6.85 million.
Zhang Jiafu, deputy director of the Bijie's Development and Reform Commission, said the State Council's approval of the plan indicates that Bijie's development will play an important role in the overall national development strategy, and shows that the city is preparing to embark on a new golden era.
"The city should make decisive progress on rural vitalization and set up a modern industrial system based on low-carbon development," Zhang said.
Bijie will also fully make use of local talent and be even more motivated to pursue growth to keep up with nationwide efforts, he added. "The city will undergo socialist modernization at the same pace as the rest of the country."
Located in the mountains of Guizhou, Bijie was once one of China's most impoverished areas. Over the past decade, significant changes have taken place as a result of poverty alleviation projects and environmental improvements.
President Xi Jinping called Bijie "a model of China's poverty alleviation drive" to mark its success in lifting 1.67 million residents out of poverty, and removing 1,981 impoverished villages from the poverty list in 2020.
Last year, the city boasted a GDP of 218.15 billion yuan ($32.3 billion), 2.5 times that of 2012, and an average annual growth rate of 9.6 percent. In the past decade, it has built a high-speed railway station and an airport, and all surrounding counties can now access expressways.
Meanwhile, the environment in this formerly barren land has been greatly improved. Since 2012, Bijie has worked to prevent soil erosion taking place on 5,462 square kilometers of land and to turn back 1,533 sq km of desertification.
Shen Yiqin, Party chief of Guizhou, said the historical changes in Bijie epitomize not only the achievements China has seen since reform and opening-up began in the late 1970s, but also the great strides made in socioeconomic development in the province since the 18th National Congress of the Communist Party of China.
"Bijie city is embarking on a new journey while facing more challenging tasks. Upgrading from a pilot area to a demonstration zone, the city will shift from developing through poverty alleviation, green construction and population control to green development, tapping human resources and innovation," she said at a meeting on Monday on promoting the city's high-quality development.
The city now plans to modernize agriculture in its mountain regions by setting up production centers suited to growing cold-weather vegetables, tea and potatoes, as well as forest-based goods and services such as edible mushrooms and beekeeping.
Yuan Xiaomei, who comes from Nayong county, started a beekeeping business in 2019 with savings she earned while working in Fujian province.
She invested nearly 400,000 yuan in setting up an apiary and hired experts to teach breeding techniques.
Yuan was able to set up 500 hives during the first two months. She now produces more than 1 metric ton of honey a year, bringing in over 400,000 yuan.
"Beekeeping is a low investment and with few risks, beekeepers are soon able to make profits," Yuan said. "As long as villagers are willing to participate, I am willing to teach them breeding techniques and how to promote beekeeping using our hometown's natural resources to create a green bank."
The more than 600 hives in the county now produce an annual output value of nearly 1 million yuan. The city's forest-based economy is also now worth 4.9 billion yuan, and as a result, villagers' lives have significantly improved.
In recent years, modern technology has been used to boost rural vitalization. At a smart agriculture park in Zhijin county, irrigation and fertilization is carried out by intelligent equipment and in addition, more than 10,000 people have found employment at the park, according to authorities.
Farmers are able to precisely manage fruits and vegetables by monitoring data, and are taught new planting techniques and offered production support.
The plan envisages that per capita disposable incomes of urban and rural residents in Bijie will see an average annual growth of 9 percent and 10 percent respectively, by 2025.
Furthermore, it envisages a rise in the urbanization rate from 43.3 percent last year to over 50 percent in the same period.
Human resources will significantly improve by 2025, when the average stay in education among people of working age is projected to increase from 7.7 years in 2021 to 10.8 years. The city's working age population is also expected to reach 1.5 million by that time.
Zhang said the approval of the plan opens the door for Bijie to seek further policy support and to promote construction, creating essential opportunities for future development.
Wang Jincontributed to this story.
Contact the writers at zhaoyimeng@chinadaily.com.cn