Shopping for scent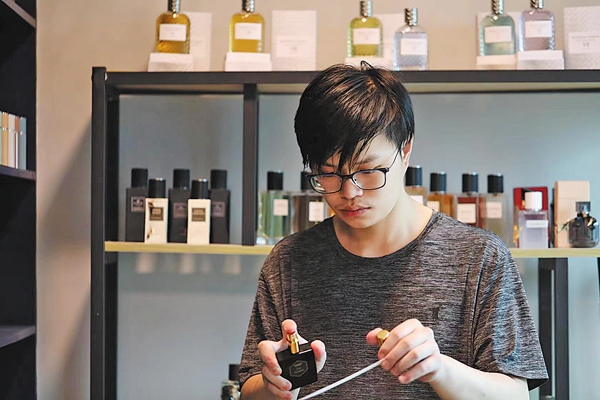 For Lou Tianyou, co-founder of Mobius Fragrances, it took him almost eight years to become a qualified perfumer.[Photo provided to China Daily]
Patience and hard work needed to succeed in niche professions, Yu Ran reports.
In the past decade, a large number of niche occupations have emerged to help young people get their ideal jobs that seem to combine interest with income, as well as offer new alternatives to evade some tougher fields. However, the reality is far crueler than their dreams.
For 23-year-old Lou Tianyou, co-founder of Mobius Fragrances, it took him almost eight years to become a qualified perfumer after experiencing curiosity, complacency and failure.
Lou got a chance to learn how to compose fragrances for perfumery products at the age of 15 from a French perfumer who came to China for a tour. After two to three years of practice, he believed that he was capable of creating the perfumes and felt confident enough to launch his own brand when he turned 18. Unfortunately, the failure smashed his pride into pieces.
"I used to think being a perfumer was pretty easy, but the more time I spent on exploring fragrances and techniques, the more I found that I had to obtain step-by-step knowledge if I wanted to be a distinguished perfumer," says Lou, who grew up with the scent of incense stored in his childhood memory.