Guideline to help MSMEs stay afloat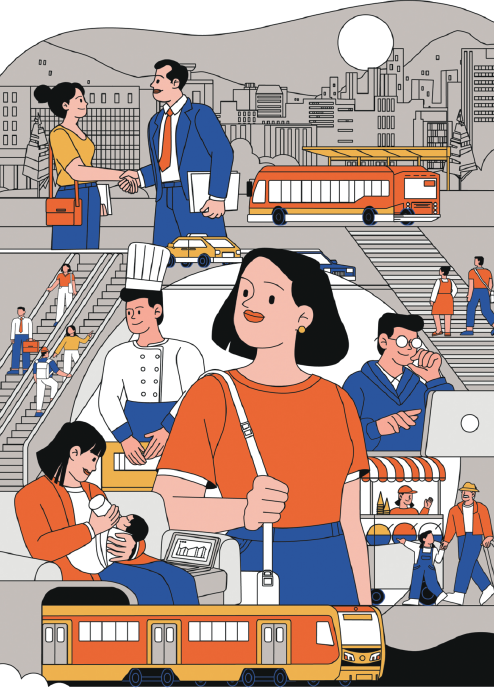 SHI YU/CHINA DAILY
New measures to lower taxes, increase financing for companies struggling due to COVID-19 outbreaks
China is beefing up support for micro, small and medium-sized enterprises (MSMEs) by enacting measures to alleviate the financial burden brought on by outbreaks of COVID-19.
Observers said these targeted policy measures will effectively sustain market players and build stronger momentum for economic growth in the latter half of this year.
Their comments were made after the Ministry of Industry and Information Technology unveiled a guideline on May 13 featuring measures including tax refunds, fee reductions, reduced rents, and cheaper and more accessible financing for MSMEs, along with policies to boost collaboration on innovation between smaller and larger enterprises.
Local authorities are encouraged to adopt temporary preferential policies on electricity prices for MSMEs and self-employed households. Moreover, their supplies of water, electricity and gas will not be cut off due to arrears, and the companies have received a six-month extension to pay their utility bills.
Also, they will receive a further 10 percent discount on their broadband service rates.
All outstanding value-added tax credits will be refunded to micro and small enterprises and self-employed households by June 30.
Moreover, financing support will be expanded. The guideline confirmed that large State-owned banks will add over 1.6 trillion yuan ($240 billion) in inclusive loans for micro and small enterprises this year.
Banks should renew loans, extend and adjust repayment arrangements and waive default interest for MSMEs and self-employed households as appropriate, and credit scores should not be affected by the changes.
In addition, the guideline urged governments to earmark special relief funds for micro, small and medium-sized enterprises and self-employed households to subsidize rental and guarantee fees and interest for those having financial difficulties.
Vice-Minister of Industry and Information Technology Xu Xiaolan said at a news conference in May that since January, small and medium-sized enterprises, or SMEs, have grown steadily. Figures from the National Bureau of Statistics indicate that in the first quarter, the revenue and profits of industrial SMEs above designated size have grown by 14.1 percent and 6.5 percent respectively, indicating the resilience and vitality of these firms.
"However, with the complicated current dynamics both at home and abroad and increasing uncertainty, we've also noticed that many MSMEs, particularly those in the service sector, have experienced notable operational pressures," Xu told the conference while explaining the need for the guideline. "Many are having trouble securing orders and worry about rising costs. Moreover, it has been difficult for them to get financing, which they need because the recent COVID-19 resurgence has hit them hard."
A survey by the Ministry of Industry and Information Technology in January showed that in recent years, about 85.1 percent of SMEs found the market to be friendly. Additionally, about 85 percent of those surveyed said financing channels had improved, while 92 percent said their tax and fee burdens had been greatly relieved.
However, smaller business communities, which are usually more vulnerable to risks and uncertainties, have found the recent resurgence particularly painful. The SME Development Index, based on a survey of the performance of 3,000 businesses, decreased by 0.3 percent to 88.3 in April from the previous month.
"China has a large number of MSMEs and self-employed households that cover a wide variety of sectors," said Wen Bin, chief analyst at China Minsheng Bank. "They are a key driving force underpinning steady economic development and sustained job growth. These recently announced measures offering tax breaks and deferrals, cheaper financing and reductions in operational costs will prove effective for these enterprises. Helping them will also help keep industrial and supply chains stable."
A week ago, the Ministry of Finance said it is ready to extend current VAT credit refund policies to cover seven more industries-wholesale and retail, agriculture, accommodation and catering, education, social work, entertainment and sports. The move is expected to increase this year's tax refunds by 142 billion yuan to 1.64 trillion yuan.
Shi Yinghua, a professor at the Chinese Academy of Fiscal Sciences, said that the VAT credit refund scheme will greatly benefit small business communities.
"Over the past several years, China's continued efforts to implement tax and fee cuts have played a significant role in keeping businesses up and running amid growth challenges," she said.
"This year, the refund scheme will work more quickly to put cash in the hands of these businesses. As VAT is a major tax across the production chain, liquidity resulting from the newly announced refund program will be notable. This will boost the recovery of the national production chain," she said.
The guideline also underscores the need to promote collaboration in innovation across enterprises of all sizes so that MSMEs can get the help they need from large and well-established businesses.
Li Chao, chief economist at Zheshang Securities, noted that innovation is playing an increasingly prominent role in national development, especially with the rise in global economic uncertainty. Greater innovation from MSMEs will help improve the industry and supply chains, and enable the country to weather further uncertainty in the future, he said.