Draft set to strengthen quality, safety of agricultural products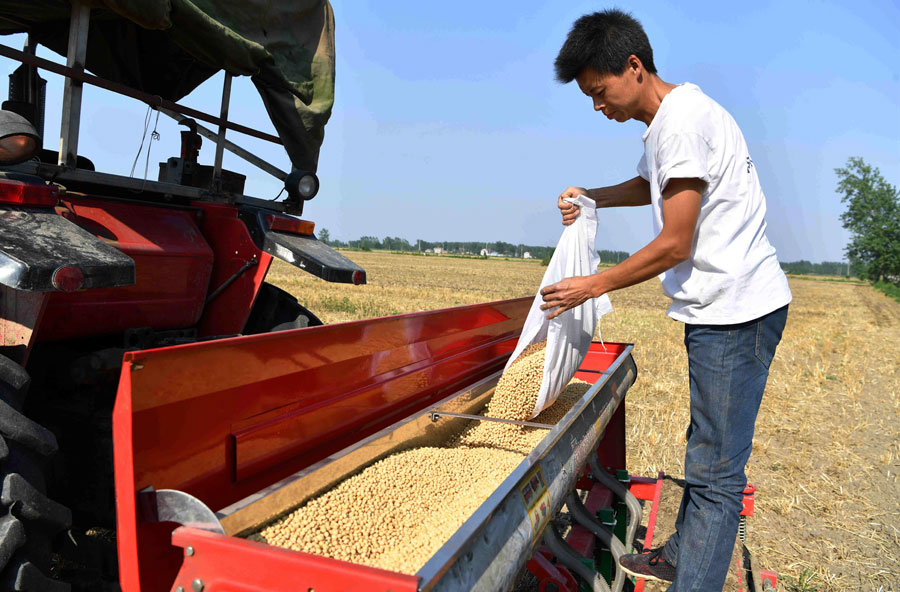 A farmer uses a machine to plant soybeans in Bozhou, Anhui province. [Photo by Liu Qinli/For China Daily]
A draft revision to the Law on Quality and Safety of Agricultural Products was submitted to the Standing Committee of the National People's Congress, China's top legislature, for a second review on Tuesday. The draft highlights the responsibilities of ensuring agricultural products' quality and safety during cold chain transportation and on e-commerce platforms.
The latest revision of the draft will focus on clarifying the quality and safety responsibility of relevant parties with the most rigorous requirements, Yang Heqing, spokesman for the National People's Congress Standing Committee's Legislative Affairs Commission, said last week.
Wang Ning, senior legislator from the NPC Constitution and Law Committee, said the infrastructure of cold chain logistics is encouraged to be built in production areas and the quality and safety of cold chain products should be regulated to ensure efficient transportation.
Operators in cold chain logistics are expected to enhance technological innovation and quality control, performing inspection and quarantine requirements on cold chain agricultural products and their packages, transport vehicles and operating environment, the draft said.
Apart from producers and sellers, the draft asks purchasers of agricultural products, including enterprises and cooperatives who subpackage products for sale, to issue quality and safety commitment certificates. Stricter supervision should be conducted on live pigs and fresh dairy products, it added.
Wholesale markets are required to inspect the quality and safety of agricultural products entering them and companies should also improve their scrutiny system, according to the draft.
It also stipulated the responsibilities of e-commerce operators and sellers in ensuring the safety and quality of agricultural products sold online.
As lawmakers propose to strengthen the education and training concerning agricultural products' quality and safety and increase the awareness of the whole society, the draft added that the media should publicize the Law on Quality and Safety of Agricultural Products and supervise illegal actions, Wang said.
Organizations that promote agricultural techniques should provide producers with inspection and education services, he added.