Grassland heritage sees new horizons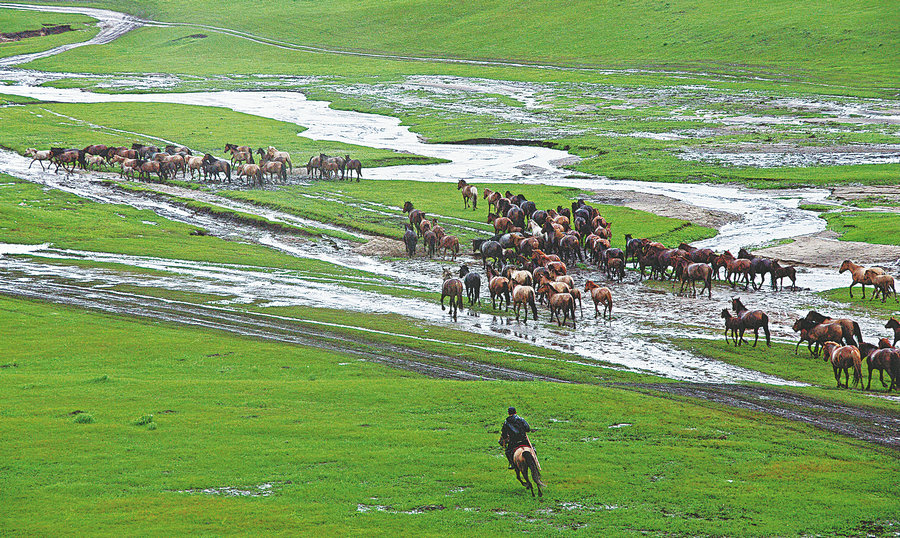 Ar Horqin Grassland Nomadic System in the Inner Mongolia autonomous region, which has been inscribed on the list of Globally Important Agricultural Heritage Systems by the Food and Agriculture Organization of the United Nations, demonstrates the wisdom of herdsmen to work in harmony with nature. [Photo provided to China Daily]
The sun hasn't yet risen, but herdsman Oyunbileg, 39, has got up to prepare for this big day. For locals in Bayan-Undur sum, a township-level administrative division of the Inner Mongolia autonomous region, who have experienced pastoral life and witnessed the circle of nature one generation after another, the mid-June season is among the busiest of the year.
The room is infused with an aroma of dairy, thanks to the heavy Mongolian breakfast prepared by Oyunbileg's wife-milky tea, quark cheese and dried beef-a must before setting off on the journey with his "family". This includes about 70 sheep and goats as well as 30 head of cattle.
The grass is flourishing and lush. Bayan-Undur sum sits in the heart of boundless prairies spreading across Ar Horqin Banner (a county-level administrative region) in Inner Mongolia. To better nurture their livestock, more than 3,000 households of the sum, or about 15,000 people, will move to their summer camps. Just like their ancestors, they will stay there for about three months before returning to the winter settlements.
These three months also enable the grass at the winter camp to restore its lushness, providing the herdsmen with feed for the approaching snowy season.