Technology improving agriculture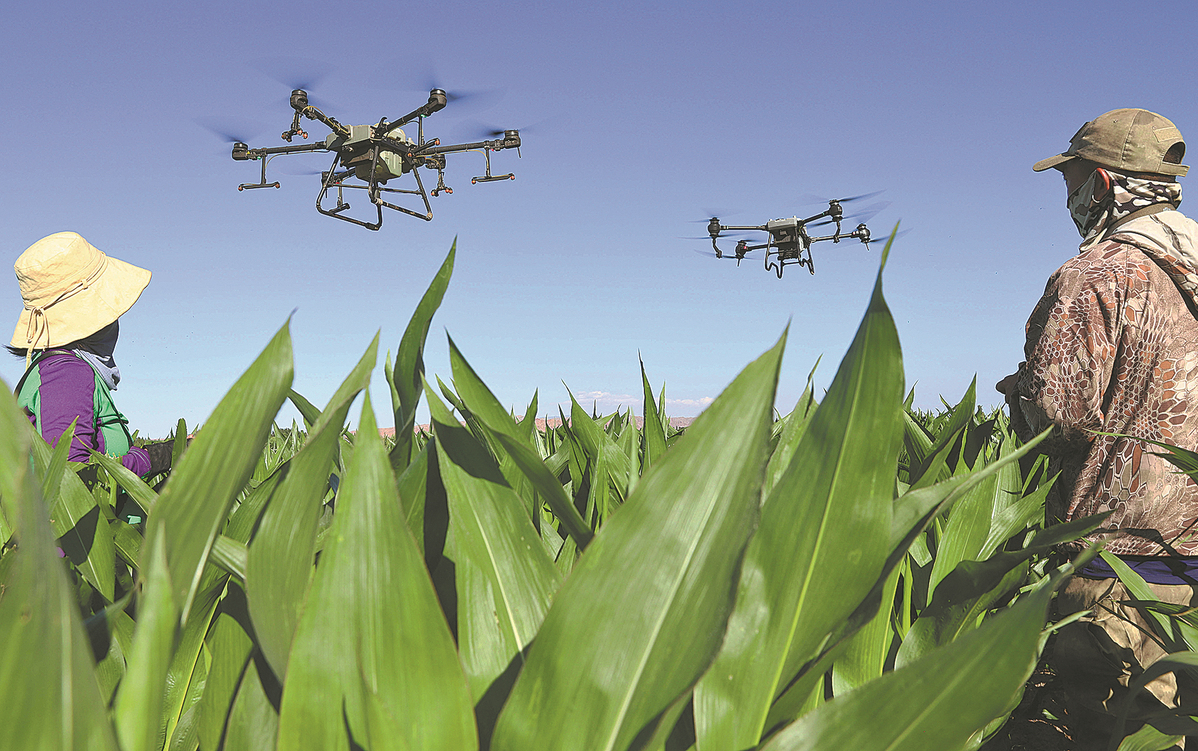 Farmers use drones to maintain a corn field in Linze, Gansu province, on June 22, 2022. [Photo by WANG JIANG/FOR CHINA DAILY]
Precision approach, mechanization saving farmers time and money
With new technologies such as artificial intelligence and big data, smart agriculture is expected to bring about essential changes to traditional agriculture in China, an expert said.
Shi Yun, a researcher at the Chinese Academy of Agricultural Sciences' Institute of Agricultural Resources and Regional Planning, said China will realize fully mechanized, automated and digital agriculture through developing smart and precision agricultural technologies.
Precision agriculture is an agricultural management system aimed at optimizing inputs to achieve the most economic and environmental benefits, using technologies including remote sensing and satellite navigation, he said.
The concept was proposed in the 1990s by experts from the United States, hoping to alleviate production and environmental dilemmas encountered in global agriculture.
Precision agriculture is able to reduce labor costs, save water, fertilizers and pesticides, and avoid or reduce unnecessary decision-making errors, Shi said.
China has included smart or precision agriculture into its No 1 Central Document since 2012. So far, demonstration bases for smart agriculture have been built in 13 areas including Beijing, Heilongjiang province and the Xinjiang Uygur autonomous region.
"In recent years, the country has been developing precision agriculture techniques in terms of irrigation, fertilization and harvesting," Shi said.
Precision irrigation-for instance, drip irrigation under mulch-can greatly reduce costs and increase the efficiency of water and fertilizer use.
The technique is particularly important in Xinjiang, where more than 80 percent of the country's cotton is produced.
By increasing soil temperature, storing water and controlling diseases, the technique has improved water and fertilizer utilization while also improving cotton quality.
The technique can reduce agricultural inputs by 35 percent on average and increase cotton production by 30 percent, according to China Science Communication.
Other technologies for precision agriculture such as plant protection drones and harvesting robots can also save resources and costs, increasing farmers' incomes and reducing their economic losses caused by natural disasters, Shi said.
XAG, China's largest agricultural drone maker, cooperates with Alibaba Cloud to help farmers improve efficiency and reduce costs.
With cloud computing, and database and cloud storage technologies, XAG has established a farmland navigation network. Drones can automatically generate routes by accessing high-definition farmland maps, fly and spray accurately, and provide standardized agricultural services.
Using cloud technology and AI, remote sensing drones are able to analyze plant growth, diseases, pests and weeds, and accurately guide the spraying drones to carry out targeted operations, greatly reducing the use of pesticides and fertilizers.
According to a social responsibility report by XAG, in cooperation with Alibaba Cloud the company has helped more than 4 million farmers cope with labor shortages and rising costs.
Meanwhile, accurate spraying technology has helped save 1.4 million metric tons of water and 6,000 tons of pesticides and fertilizers, the company said.
However, the development of precision agriculture still faces challenges and lags behind developed countries.
"Some core equipment and techniques, such as parts of agricultural sensors, still rely on imports, and big shortages remain in smart agriculture technicians," Shi said, adding that more financial support is needed to comprehensively promote smart agriculture nationwide.
Robotics technology and artificial intelligence, which have been applied in developed countries, will be the future direction of precision agriculture development in China, but they need to be adapted to fit local conditions in different areas.
"Since artificial intelligence and robotics have been applied in China for a relatively short time, it is necessary to open up a modern path with Chinese characteristics based on local conditions," Shi said.
For example, major grain producing areas, such as Northeast China, the middle and lower reaches of the Yangtze River may try the digital agriculture model of Germany and France.
Israel's automatic drip irrigation technology can be introduced to water-scarce areas in China, he said.
"Developing precision agriculture is an essential way to realize agricultural modernization, greatly increase production capacity and further ensure national food security," he added.