Plan lays out carbon targets in construction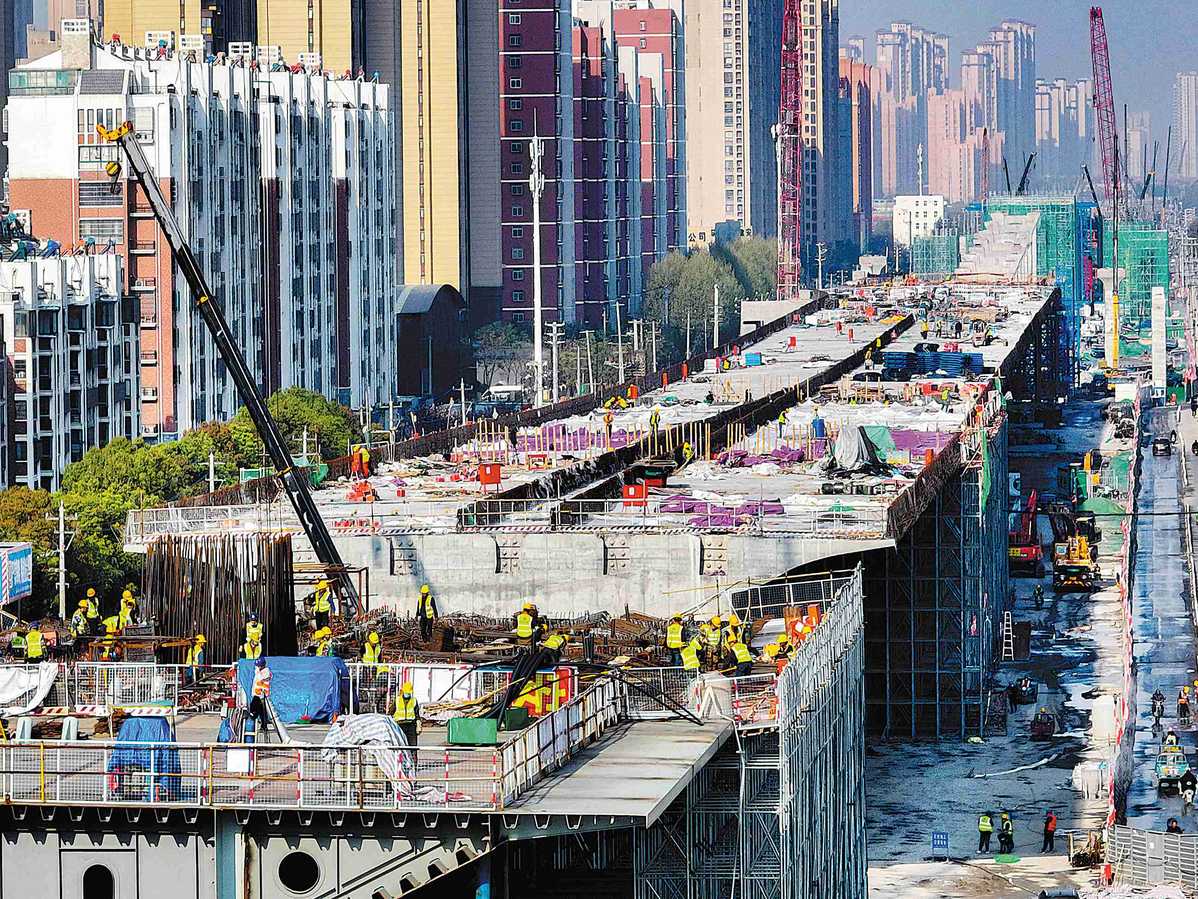 Workers are seen at the construction site of Baogong Main Road, a key urban transportation project in Hefei, Anhui province, in April. [Photo by RUAN XUEFENG/FOR CHINA DAILY]
Green buildings, photovoltaic panels to play key role in eco-friendly transition
Chinese authorities on Wednesday unveiled an action plan on the work to peak carbon dioxide emissions in the construction sector, laying out key specific targets and measures for the eight years to come.
Emissions from the sector are expected to peak before 2030. By 2060, a comprehensive green transition will have been accomplished in construction modes, according to the plan, which was jointly issued by the Ministry of Housing and Urban-Rural Development and the National Development and Reform Commission.
The country aims to peak carbon dioxide emissions before 2030 and realize carbon neutrality before 2060.
The construction sector is a major contributor to emissions.
According to the China Association of Building Energy Efficiency, a total of 4.9 billion metric tons of carbon dioxide was generated in China in 2018 through the entire building process from producing construction materials to building and operating.
Buildings in use produced roughly 2.1 billion tons of emissions, accounting for about 22 percent of the country's total emissions in the year.
Energy conservation and the application of solar energy generation facilities in buildings are among the major goals of the action plan.
The country, for example, will accomplish energy-saving transformation in all public buildings in major cities by 2030, which will help lift energy efficiency by at least 20 percent, the document said.
By 2030, 80 percent of lights used in public spaces in the country's urban areas will be LED or other efficient, energy-saving products. At least 30 percent of cities will use digital lighting management systems, it said.
It said the country will endeavor to have the roofs of half of all newly constructed public buildings and factories covered by photovoltaic panels by 2025. Efforts will also be made to add photovoltaic panels to existing buildings.
According to the document, the country will minimize building demolition and reform how buildings are constructed.
"The removal of a sprawl of buildings on a large scale will be avoided unless the buildings are illegally built or identified as dilapidated and not worth renovating," it said.
The country will build more small and medium-sized residential units while restraining the development of oversized ones, it said. More new houses will be delivered to buyers already decorated.
Measures will be rolled out to boost the development of prefabricated buildings, it said. By 2030, such buildings will cover 40 percent of those constructed across urban China in the year.
According to the Ministry of Housing and Urban-Rural Development, China has made significant progress in promoting green buildings.
A green building is defined by the ministry as one that contributes to resource conservation, environment protection and pollution reduction and can help realize the harmonious coexistence of man and nature. The ministry unveiled a dedicated assessment standard for such buildings in August 2019.
Over 90 percent of buildings constructed in the first half of this year are green, the ministry said. In 2021, the total floor area of green buildings across the country reached 2 billion square meters, compared with only 4 million sq m in 2012.