Capital to host master's class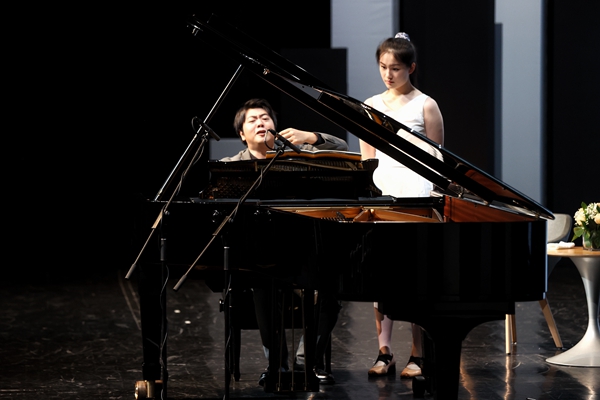 Lang Lang plays French composer Maurice Ravel's La Valse, while teaching his student, teenage pianist Wang Keren, during his master class held at the NCPA Taihu Stage Art Center in Tongzhou district, Beijing, on Saturday.[Photo by Jiang Dong/China Daily]
Piano virtuoso Lang Lang announces collaboration with the NCPA to establish a Beijing branch of his music school, Chen Nan reports.
"Your left hand portrays a scene, where the waves dance and sparkle. Your right hand makes the sound, which is like a singer singing beautifully," says pianist Lang Lang.
When his student, Xu Zihang, plays Chopin'sAndante Spianato et Grande Polonaise Brillante, Op 22, Lang shares his understanding about the music piece.
"As the waves move forward, the singing goes along smoothly," he adds, humming the melody while waving his hands. "Here, the waves become stronger and the singing could be more dramatic."
Xu, who has been studying at the Juilliard School in New York for two years and now takes classes online due to the COVID-19 pandemic, plays the music piece again and makes changes based on Lang's instruction.
When another student, Lin Zihan, plays the first movement of Beethoven'sPiano Sonata in C Major Op 2 No 3, Lang stands by the piano, demonstrating crescendo and decrescendo by raising and lowering his head.
"Beethoven was a lion. He had a very strong personality, even when he was a young man, or let's say, a little lion," Lang says. "When I learned to play his music, I had misunderstandings. His works are very expressive, which need us, interpreters, to be very careful and fully deliver the meaning behind his musical notes."
Xu and Lin are among six music students who received one-to-one tutoring at a master class held at the NCPA Taihu Stage Art Center in Beijing's Tongzhou district on Saturday.
The venue was packed with about 700 children and their parents, who also attended Lang's master class.
"I love sharing my ideas about music pieces, as well as my personal habits and problems I deal with during my daily practice," Lang says. "As a teacher, I like making every musical note come to life. It's great to give every bar a special character."
The pianist ended the master class by playing excerpts of Johann Sebastian Bach'sGoldberg Variations, which was received warmly by the audience, among which was Lang's teacher, 94-year-old pianist and music educator Zhu Yafen.
"She has never watched me playingGoldberg Variationsand today I dedicate this music piece to her," Lang announced. In 2020, the pianist released two new recordings of Bach'sGoldberg Variations, one live and one recorded in the studio. Lang first began exploring the masterpiece 20 years ago and presented his recordings as the outcome of a personal, emotional journey.
It is no coincidence that Lang decided to give his master class at the NCPA Taihu Stage Art Center. A year ago, Lang opened a studio at the art center.
The pianist's photos, albums and trophies are displayed in the studio, including an award certificate from 1989, which shows the pianist, 7 years old at the time, winning a piano competition in his hometown in Liaoning province.
He had some ideas for the studio, especially for students. The master class on Saturday was his first project after launching the studio.